I decided to join a linky party that
Mrs. Owens
put on about 10 Things to Know About Me.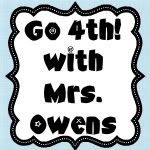 So here we go....
10 Things to Know About Me
10. I'm from Oklahoma, but I love Texas! (and Oklahoma haha)
9. I went to Southwestern University in Georgetown,TX....the best college of all time!
8. I swam throughout high school and for two years in college. My stroke was backstroke (but it caused me to get tennis elbow in both arms so I quit)
7. I have way too many must-see TV shows each week(Glee, Parks and Rec, SYTYCD, How I Met Your Mother, The Big Bang Theory, Modern Family, 30 Rock......yikes!)
6. I'm addicted to sweets.....especially anything with chocolate and/or peanut butter.
5. I'm a dog person...even though I'm allergic to them.
4. I love London...I want to go back and travel throughout Europe.
3. I'm going to grad school in the fall part-time at UT in Austin. I'm super excited/nervous!
2. I love my job...it has been my dream to be a teacher since I was 4, and I still can't believe I get to do what I love every day.
1. Jesus is my Savior and I'm so thankful for the relationship I have with Him.
Well, that's me in a nutshell! :) Click the links above if you want to join the party!